Fitness Programs in Kansas City
Motus Ninjas isn't your typical fitness center and our fitness programs aren't typical, either! Offered only at our Lee's Summit location, you'll find fun fitness programs that are designed to improve aerobic capacity, balance, and coordination—without ever being monotonous or boring. We believe that movement is the foundation of any physically fit lifestyle. So, if lifting heavy weights and logging miles on a treadmill isn't your style, get active with the Motus Ninjas in your area!
Our Motus Fit fitness program is designed to help you row, jump, sprint, and climb your way to your fitness goals. With the unique environment and equipment we use, these high-intensity interval training (HIIT) workouts will feel less like work and more like play. We'll combine movements from a variety of disciplines to keep you engaged and challenged, and our instructors ensure guidance, scaling, and customization to accommodate any skill level. We put on 12 classes each week—feel free to drop in as you're able to!
At Motus Ninjas, we put emphasis on showing kids how they can have fun and enjoy exercise as a part of a well-rounded and healthy lifestyle. With our Motus Fit Kids fitness program, we're able to encourage your child to develop exercise habits that will help them continue to seek movement and fitness throughout their lives. Kids are naturally high-energy and our instructors match their enthusiasm while motivating them through fun and creative workouts specially designed for kids ages 10–17.
Motus Ninjas is pleased to have a new fitness program available for those who are looking to focus on a community that prioritizes health from the inside out. Partnering with Modern Health KC, we are able to build a supportive environment that emphasizes accountability while teaching you more about total wellness and nutrition. Visit our Motus Fit Health Revolution page to see more about how this fitness program can improve your life.
Unlock Your Inner Warrior
Combine your passion and dedication into a set of Ninja skills.
Why Get Fit with Motus Ninjas
Have fun, get fit. At Motus Ninjas, we prioritize putting the fun back into fitness. You could sweat through 5 days a week of monotonous, strenuous workouts—or you could get active through diverse, dynamic fitness classes that feel less like work and more like play.
Gain total body, functional strength. Our functional Ninja workouts are about more than just losing weight—you're also gaining total body, practical strength. This functional strength translates to tangible progress as you test your new-found ninja abilities on our 250+ foot obstacle course. Every small improvement in your physical and mental health will help boost your motivation and pride!
Create community. One of the best parts about working out in a fitness class setting is the community that comes along with it. In our fitness programs, you'll be surrounded by an amazing community of like-minded people, all eager to hold you accountable and encourage you to reach your goals.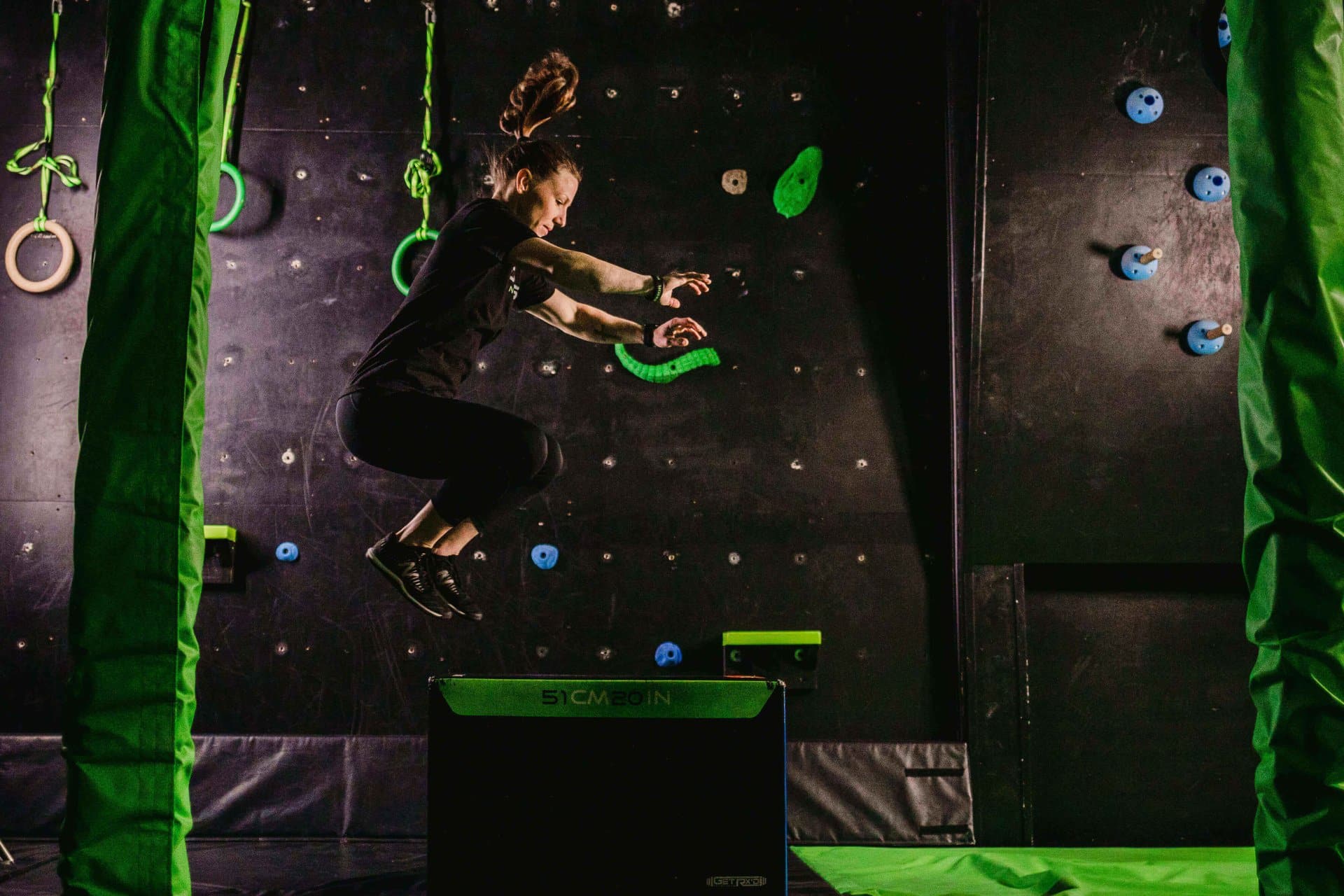 The list could truly go on and on and on—the bottom line is that we all already know how important it is to exercise regularly and to get the nutrition our bodies need to function at their prime. Joining a fitness program at Motus Ninjas at one of our gyms in the Kansas City area can motivate you to maintain these important habits—because you'll actually be having FUN while getting fit!