Ninja Warrior Training in the Kansas City Area
We all remember playing as a child, climbing trees and conquering the playground jungle gym. Back then fitness was a natural part of our lives—we had the energy to burn and a place to burn it! Don't let adulthood get in the way of having fun with your physical health. Come to a Motus Ninjas gym in the Kansas City area for a ninja warrior gym that lets you have a blast while improving your health and fitness. Our Adult Ninja Warrior program is a ninja warrior class for anyone aged 16 and up.
Largest Ninja Warrior Gym in the Kansas City Region
At Motus Ninjas, we are proud to have the largest ninja warrior gym in the area. We have locations in Kansas City, with more locations opening soon! We want to make it easy to join our Adult Ninja Warrior program so you can start a fitness lifestyle that challenges you to be your best self. The CDC recommends that adults get 150 minutes of moderate-intensity aerobic activity each week, with two days per week focused on muscle-strengthening activity. At Motus Ninjas, we ensure those 150 minutes don't feel like another thing on the to-do list, but something you genuinely look forward to each week.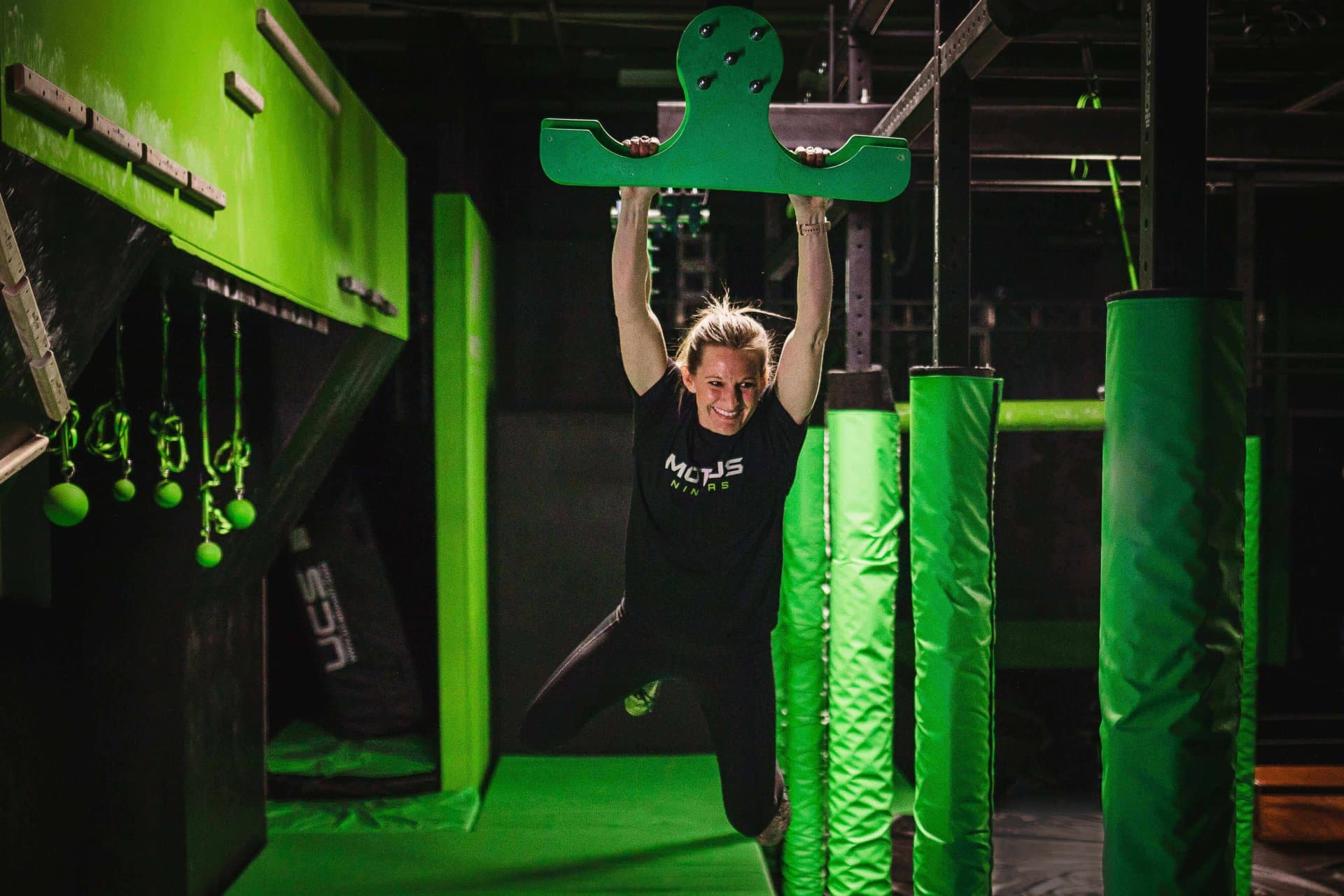 What Do Adult Motus Ninja Classes Include?
Adult Motus Ninjas classes are 90 minutes long, offered twice a week.  Instructors will lead participants in a brief warm-up before moving onto coaching Adult Ninja students through our various stations, improving speed, agility, grip strength, course connection, skill development and mastery.
Unlock Your Inner Warrior
Combine your passion and dedication into a set of Ninja skills.
Ninja Warrior Training Benefits
By getting active with our Adult Ninja Warrior program, you will be able to more easily meet the activity suggestions for reaching your best health outcome. Conquering our obstacles and racing against time on our speed course will have you doing cardio and muscle-strengthening exercises without even realizing that's what you're doing—you'll just be focused on overcoming an exciting challenge! Our instructors guide you through the moves until you can perform them safely, as well as helping with developmental progressions for obstacles. With the proper conditioning, you'll be able to reach the next level. As you gain mobility through our program, you'll find yourself enjoying more adventures in your life outside the gym! Through Motus Ninjas's Adult Ninja Warrior program, you can prepare to compete, stay in shape, or just have fun.