Motus Ninjas in the Kansas City Area
If your child isn't into basketball, volleyball, or any of the traditional school sports, let them discover their inner ninja warrior with Motus Ninjas! Our program allows them to channel their energy into new skills and discipline that will make them proud of what they've accomplished. Whatever your child's age, they will benefit from having an active lifestyle—in fact, the CDC recommends that all children and adolescents who are age 6-17 get a full hour of moderate-to-vigorous physical activity every single day. With our ninja warrior gym for kids, they are sure to not only learn the skills and develop their bodies, but to have a whole lot of fun while they're doing it!
Mini Warriors
Bring your 4-5 year-olds to develop their fitness through fun activities that build confidence and determination. Our Mini Warrior classes give your kiddos a unique opportunity to take on Ninja Warrior obstacles their size and feel like a real American Ninja Warrior while racing against time on our speed course. Your little warrior will learn to control their body like a ninja in a safe, fun, and structured environment.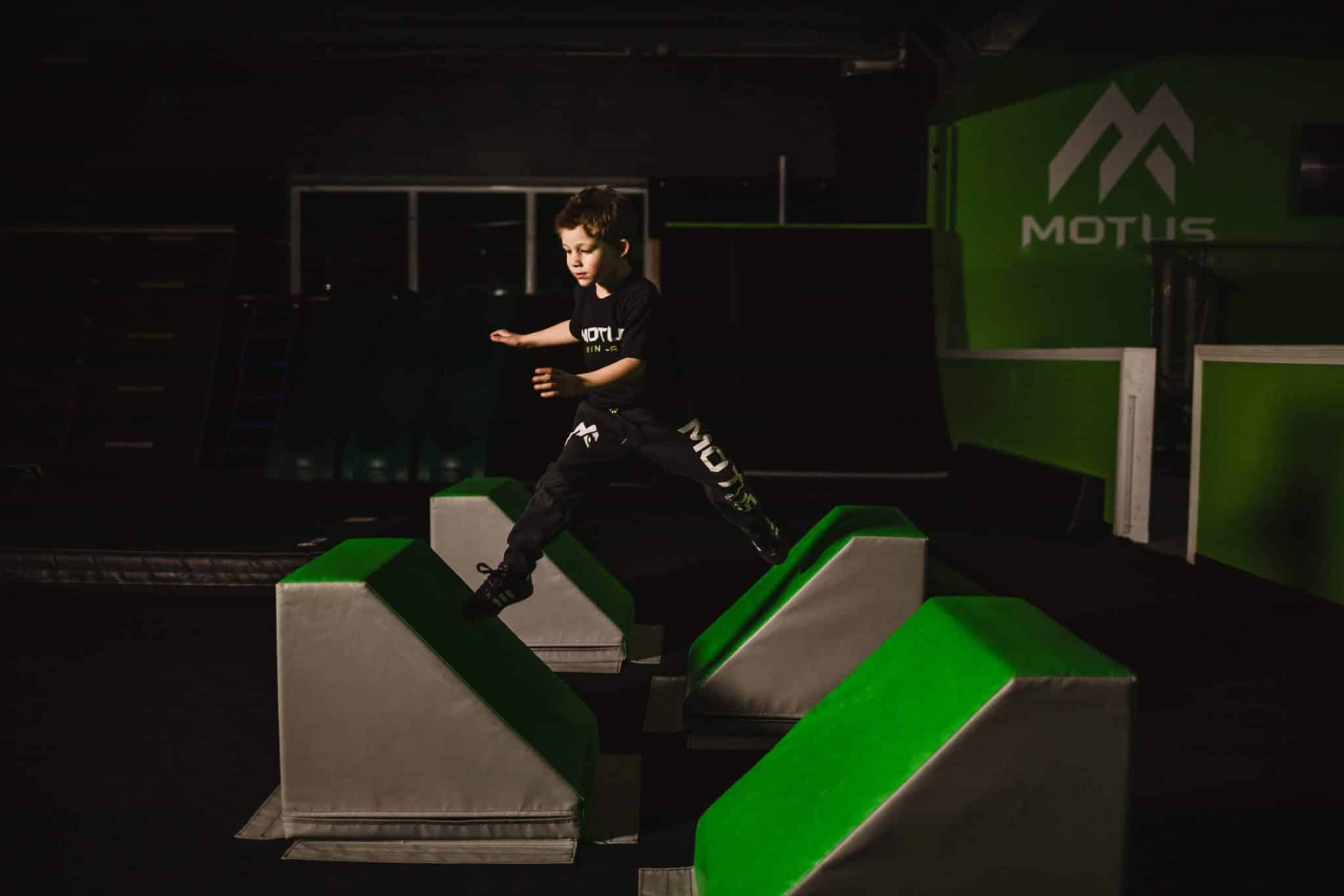 Ninja Warriors
Our Ninja Warrior classes are designed to help kids burn energy while gaining strength, balance, and coordination—all while in an environment that encourages them to build their mental strength and confidence. Our ninja course offers a unique opportunity to overcome both mental and physical challenges as they learn to conquer the course through obstacle progression and skill development. Classes will also focus on increasing strength and agility. Whether your child wants to compete, stay in shape for sports, or just have fun, we are there to make sure they succeed!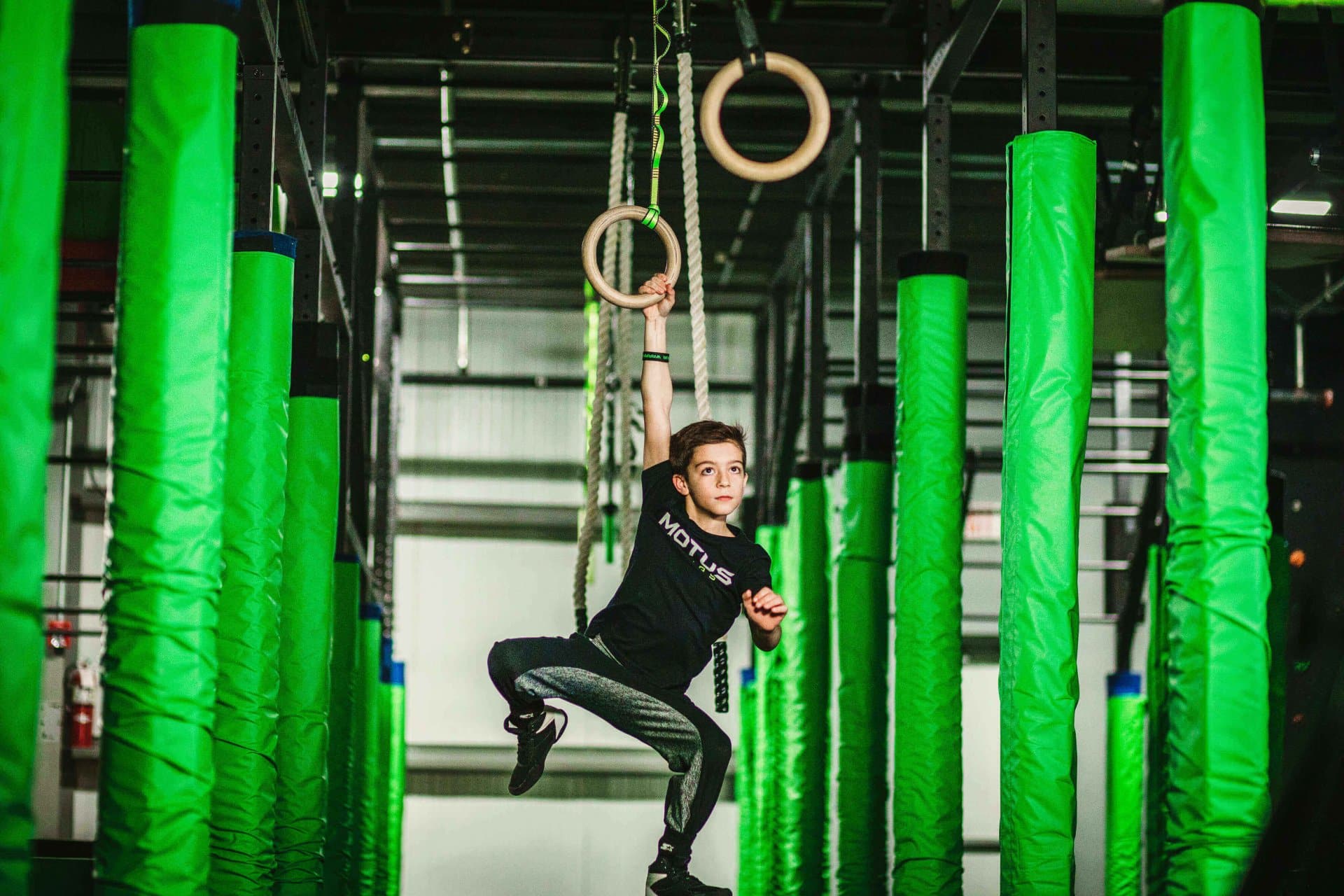 Unlock Your Inner Warrior
Combine your passion and dedication into a set of Ninja skills.
What Do Motus Ninja Classes Include?
Motus Ninja classes are each 50 minutes long. Instructors will lead the participants in a 5-minute warm-up before we move into coaching students through the stations. Students will be at each station for 11 minutes before moving on. Our Mini Warriors end their class with an exciting animal chant, and everyone joins in for a group ninja shout to wrap things up!
Recommendations for Physical Activity
Growing bodies require a great deal of activity to keep them healthy and promote wellness into adulthood. The CDC has specific recommendations for youth to get the best benefit from their exercise.
Muscle-Strengthening Activity
It is recommended that at least 3 days per week should include muscle-strengthening activities within the 60 minutes of daily physical activity. Muscle-strengthening activities include resistance training and lifting weights. At Motus Ninjas, a lot of our activities include utilizing your own body weight for resistance training in order to build muscle strength.
Aerobic Exercise
Most of the 60 minutes per day should be spent in either moderate- or vigorous-intensity aerobic physical activity. For optimal health results, 3 days per week should definitely include vigorous-intensity activity. Examples include aerobic dancing, running, swimming, jumping rope, and of course one of the most fun ways to meet the requirement for vigorous activity is through Motus Ninjas's fun ninja warrior gym for kids.
Bone-Strengthening Activity
Healthy bones are incredibly important to develop in your youth, as it can help prevent osteoporosis later in life. Children and adolescents should get 3 days per week of bone-strengthening activities in their active time. Bone-strengthening activities are sometimes called weight-bearing or weight-loading activity and produce a force on the bones to promote growth and strength. Common examples include jumping jacks, running, brisk walking, and weight-lifting.
As you can see, many of these different types of physical activities play into each other and with the way we exercise with our Motus Ninjas kids fitness classes in Kansas City- Lee's Summit and Liberty it's easy and fun for your child to get the activity they need for optimal growth.