Get Your Ninja On With Motus
At Motus Ninjas, we believe that fitness can and should be FUN. Let us prove it to you—come by for an open gym and sign up for one of our incredible programs at any of our convenient Kansas City locations!
Ninja Warrior Gyms Across Kansas City
Are you looking for a new, fun, and challenging way for your entire family to keep active and stay healthy? Revolutionize how you work on your fitness with Motus Ninjas! We are the largest ninja warrior gym in the Kansas City area with a facility in Lee's Summit and additional locations opening soon. Unlock your inner warrior at Motus Ninjas.
---
Our Kansas City Area Ninja Warrior Programs
Get your warrior on with Motus Ninjas's ninja-based programs.
View all classes
Motus Ninjas

Our Motus Ninjas program is designed to help your child develop a warrior mentality to overcome obstacles in the gym and in the real world. The Mini Warriors program is for 4 and 5-year-olds who need to burn off their youthful energy while developing balance and coordination. For your older ninjas, our Ninja Warriors classes for ages 6–15 offer a unique opportunity to build confidence and overcome more advanced challenges.

View Details
Adult Ninjas

If you are age 16 and up, our Adult Motus Ninjas group is the program for you. We aim to bring the fun back into fitness while guiding you through obstacles that progress in intensity as you strengthen your muscles and your mind.

View Details
Homeschool Motus Ninjas

Physical education in schools is a vital part of a child's development, and Kansas City's homeschooled students should not be left out! Let your child learn the skills they need to master balance, agility, and strength while developing their overall fitness level and having fun! Each week, our instructors put together fun, new courses to keep things interesting and challenging.

View Details
Team Motus

Team Motus is for anyone ages 8 and up wanting to learn the skills it takes to overcome obstacles and compete like a true Ninja Warrior. The practice schedule is Tuesday and Thursday from 5-6 pm. Call today for more details on joining Team Motus!

View Details
Motus Ninjas
Adult Ninjas
Homeschool Motus Ninjas
Team Motus
Unlock Your Inner Warrior
Combine your passion and dedication into a set of Ninja skills.
725 NW Commerce Dr, Suite M
Lee's Summit, MO
(816) 600-0195
Monday
10:00am
8:00pm
Tuesday
10:00am
8:00pm
Wednesday
10:00am
8:00pm
Thursday
10:00am
8:00pm
Friday
10:00am
9:00pm
Saturday
9:00am
7:00pm
Sunday
Closed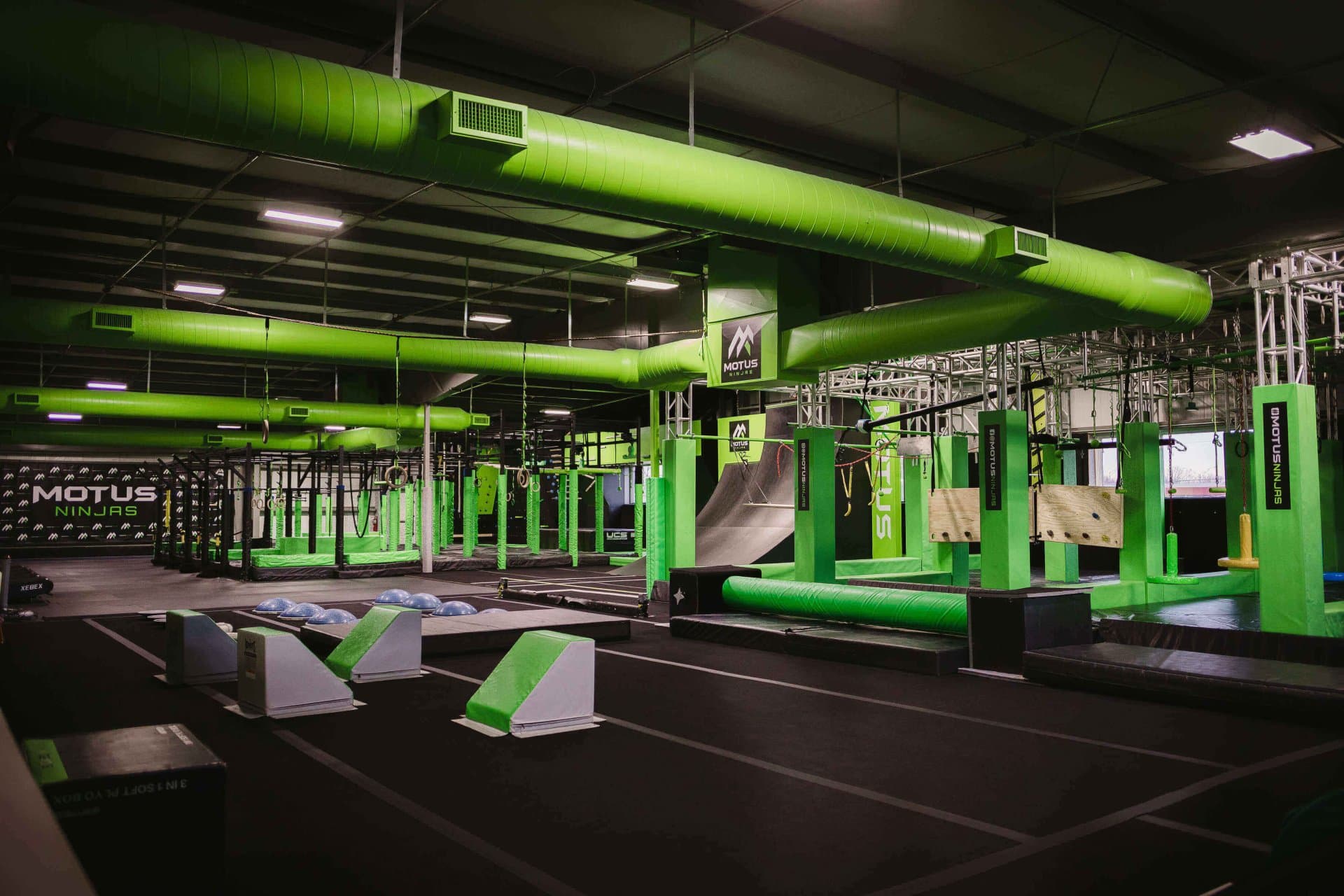 The Core Values that Drive Us
Being a ninja warrior is about more than just physical fitness. At Motus Ninjas, we believe in building the entire person—inside and out. That dedication is reflected in our 6 core values.
Collaborative Teamwork
Every person we encounter has a story and experiences that are completely unique to them. We respect and recognize that this is what contributes to our one-of-a-kind community and therefore, we focus on instilling in our students the value of compromise, conflict, trust, risk, and problem-solving in an environment that is safe and inclusive.
Continuous Improvement
Good is never good enough for us. At Motus Ninjas, we believe in constantly working to improve on our personal development as well as our programs, best practices, and processes in order to give our customers the utmost satisfaction.
Customer Commitment
Customer satisfaction is the heart and soul of everything we do at Motus Ninjas. We work to exceed all of your expectations with little things that ensure you have a memorable experience with us. We are committed to reflecting our consistency and expectations as well as the excitement for the value we have in each athlete and staff member.
Healthy, Balanced Living
Character is the sum of our habits—that's what we believe at Motus Ninjas. We are committed to helping the athletes who come to us create daily habits that will be successful and lead to well-rounded lives. It isn't just about building your physical strength, it's about building your total strength.
Positive and Fun Environment
If you aren't having fun and feeling supported, it can be challenging to maintain your healthy habits. We foster the kind of supportive environment our athletes need. The programs we provide are safe, secure, and engaging while encouraging our athletes to have a little fun with it.
Pursue Passion and Find Purpose
When you build your confidence and strength as a Motus ninja, you also discover the skills and talents within you that will give you the courage to unlock all the opportunities in your life.
About Motus Ninjas
There is a lot to get to know about Motus Ninjas—from our philosophy to the technical information on how to enroll in our classes. Find everything you need to know about enrollment, our schedule, the Parent Portal, and more on our about page.
Our fitness programs emphasize that movement is the foundation of a fit and healthy lifestyle.
Remember how much fun playing was as a child? Running around, climbing trees, and swinging off jungle-gyms—fitness was a natural and enjoyable part of life. Our Motus Fit program seeks to reset the tone of your workout routine by making fitness fun again. Reach your movement goals, better your balance, and improve your coordination with bodyweight, resistance bands, jump ropes, and more simple equipment. Live better through foundation fitness—beginner ninjas welcome!
Motus Fit Health Revolution is a new program focusing on an entire health community. Partnering with Modern Health KC allows participants to learn more about their health from the inside out through wellness labs, nutrition advice, and living a more active lifestyle.
At Motus Ninjas, we want to give the athletes in our classes a way to showcase their hard work and dedication to the sport of ninja! We offer in-house competitions along with league competitions for our amazing athletes! Our students are welcome to participate in any of our competitions each year!
Ninja Activities
We are pleased to host a variety of fun activities for the whole family to enjoy!
We offer parties every Saturday for ages 4 and up. Parties can be exclusive or non-exclusive and include playtime as well as time for cake and gifts!
Whether you're looking for more opportunities to hone your ninja skills or hoping to impress your partner with a unique date night, Motus Ninjas's open gym is the perfect opportunity to test your limits while having fun. We have daily open gym sessions that give you access to our entire ninja warrior gym.
Unleash your inner warrior with a Motus Ninjas summer camp for ages 5-12. Camps run from Monday through Thursday and include an open gym pass for Friday.
Grow with your team while working together to overcome obstacles and conquer challenges. Allow your team to step out of their comfort zone and enjoy the satisfaction of succeeding together.
Whether its students, teammates, or staff members—our field trips allow your field trip group to be active and engaged both physically and mentally.