Get Motus Fit: Fitness Classes in Kansas City
Don't just get in shape—unleash your inner warrior with fitness classes from Motus Ninjas in the Kansas City Metro! Our Motus Fit programs will have you looking forward to each session, giving you the opportunity to join a health community that values dynamic, energetic, and engaging workouts that train the mind and the body.
What is Motus Fit?
Motus Ninjas's Motus Fit program for adults is a high-intensity interval workout. Interval workouts are a series of workouts interspersed with rest periods, combining a variety of movements from many disciplines in order to create a workout that is both challenging and engaging. You will remember what it was like to be a kid, breathless with joy and exertion after a fun romp around the playground with your friends!
Our Motus Fit for Adults class times are:
Mondays at 5 pm
Tuesdays and Wednesdays at 5 am and 6 am
Thursdays and Fridays at 5 am
Monday–Thursday at 4 pm
The cost of admission into Motus Fit for Adults is:
Unlimited monthly classes: $99
Punch cards: 4 for $50 or 9 for $99 - punch cards expire 6 months from the time of purchase
Drop-in class rate: $15 per class
Unlock Your Inner Warrior
Combine your passion and dedication into a set of Ninja skills.
What do fitness classes entail?
Motus Fit classes focus on a specific group of muscles each day.
Mondays focus on legs, glutes, and core
Tuesdays are metabolic days
Wednesdays focus on flexibility, balance, and strength
Thursdays are upper body workouts
Fridays are a full-body high-intensity workout
Mondays, Thursdays, and Fridays will follow the same basic structure: After a warm-up to get your blood flowing, the trainer will explain the day's stations, of which there are generally 8-10, and then the circuit begins! Participants start at one station for 45 seconds, then rotate to the next. After each circuit, there is a minute break, and each circuit is repeated 3 times. Class wraps up with stretching the muscles that have been worked. 
Tuesdays and Wednesdays start with a warm-up followed by an activation circuit, which is slower and lower intensity. After this is completed, participants move through the circuits and continue until all exercises are completed (or time runs out). 
What is high-intensity interval training (HIIT)?
Unless you are a professional athlete, chances are you don't have hours to spend working out each day. High-intensity interval training, also sometimes called high-intensity intermittent exercise, is a cardio workout that alternates short periods of intense anaerobic exercise with less-intense recovery periods. Does it take dedication and motivation? Absolutely! But our instructors are here to keep you motivated so that you get the most out of your fitness class. HIIT workouts are a way to get the benefits of a much longer cardio session packed into a more manageable time period. If regular workouts are boring to you, check out Motus Fit fitness classes and learn what you've been missing!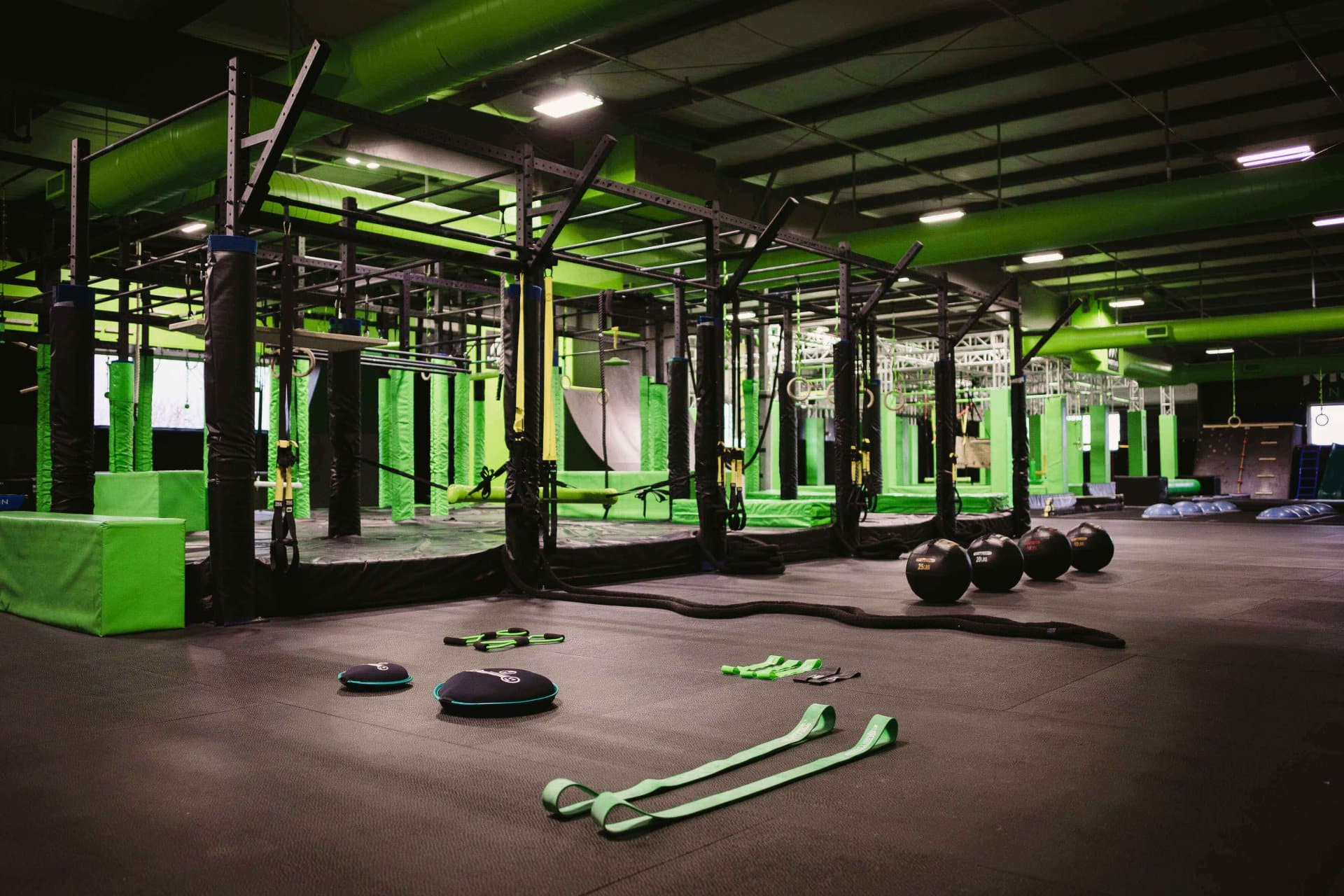 Is Motus Fit for anybody?
Our highly-trained instructors guide, scale, and customize the Motus Fit experience to accommodate any skill level as you move through the circuit training workout. We can even help you determine how often you should consider attending the fitness class in order to reach your goals. Because of our unique environment and ninja warrior equipment, you won't feel like you're working out, you'll feel like you're playing! Row, push-up, jump, sprint, and climb your way toward achieving your fitness goals.
Motus Fit Kids
We don't want the adults to have all of the fun! Our specially designed Motus Fit Kids fitness classes are designed to show them how to enjoy exercise in a way that will stick with them for life. Our high-energy instructors can keep up with their youthful vitality and motivate them through a circuit training workout that combines movements from calisthenics, ninja warrior, endurance training, and more disciplines. Motus Ninjas uses obstacles to build balance, coordination, confidence, and strength. It's the best circuit training workout for kids in the Kansas City area!
Our Motus Fit Kids classes are held Mondays through Thursdays at 4 pm.