A Party Venue for Ninjas of All Ages!
If it's Saturday, it's party day! Motus Ninjas in Lee's Summit hosts parties every Saturday for all occasions and all ages 4 and up. Discover your inner ninja during the most fun and energetic party you've ever been to! Our Party Coach will guide party-goers through overcoming obstacles and racing against time on our speed course. Whether you want the place to yourself for an exclusive party or want to mingle with the masses with a non-exclusive party, Motus Ninjas is the place to go for a ninja warrior-themed party in Lee's Summit!
Exclusive birthday party options
Feel like the king of the warriors with an exclusive party at Motus Ninjas! Exclusive parties include an hour and 15 minutes of playtime as well as 30 minutes for cake and gifts. Exclusive parties are so exclusive that we only offer them at 11 am on Saturdays, so be sure to get booked! The cost of an exclusive party is $350 (plus tax) for 1-15 people and $15 for each additional person. EVERYTHING is included in the cost! That includes set-up and clean-up, cake, paper goods, drinks, goody bags, and a Party Coach to make the experience truly unforgettable! A $100 minimum deposit is required at booking (prices may vary between locations).
Non-Exclusive birthday party options
If exclusivity is not your thing and you want to show off your ninja warrior skills in front of more people, our non-exclusive parties are available Saturdays at 1 pm, 3 pm, and 5 pm. The non-exclusive parties follow the same format as the exclusive ones, offering 1 hour and 15 minutes of playtime and 30 minutes for cake and gifts, plus they come with all the same great perks as the exclusive parties—cake, paper goods, drinks, goody bags, the incredible Party Coach, and not having to worry about set-up or clean-up—for $250 (plus tax) for a total of 1-15 people in the party, and the same additional cost of $15 for any additional party-goers. Non-exclusive parties share the facility with open gym participants. A $100 minimum deposit is required at booking (prices may vary between locations).
Party add-on options
Party add-ons for either type of party include:
Motus Bracelets $1.50 per person
Additional playtime for the party at $5 per hour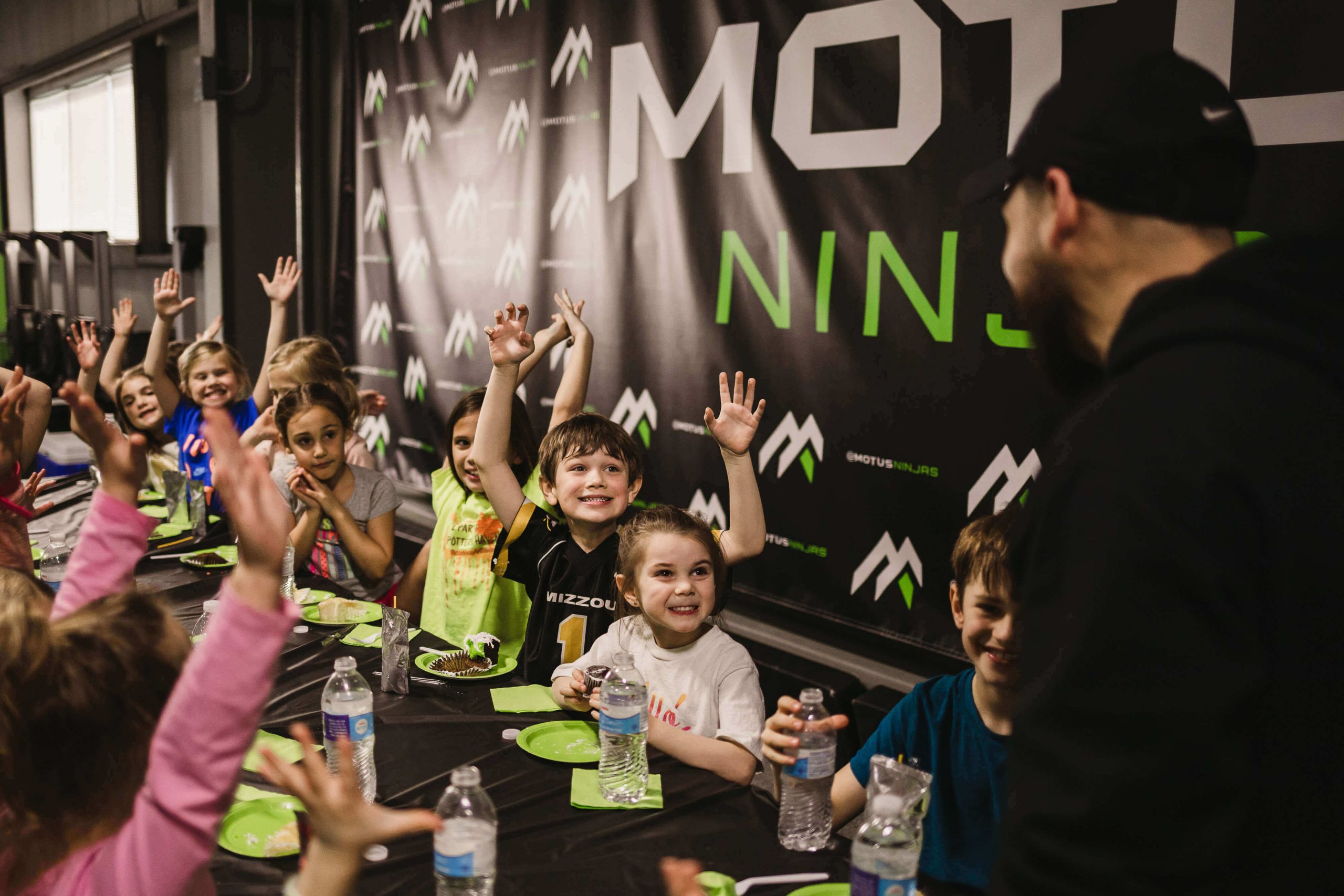 Book our unique party venue today!
A party venue that's sure to please
At Motus Ninjas, we provide a truly unique experience for all of our party-goers. Parents and partiers alike will appreciate having a Party Coach to make the experience even more special—not to mention less stressful for parents! The Party Coach creates an environment that is safe, fun, and energetic for everyone! And parents get to enjoy the party more, too. The Party Coach will ensure everyone is having a good time playing, and when the time comes they lead the guests from the play area and get a group picture of everyone in front of the Warped Wall, then they cut and pass out the cake. They even keep track of the gifts for the parents and help them carry gifts out once the party wraps up. It's an all-inclusive, incredibly fun time for all!
Safety Rules and Guidelines
The best ninja warriors know that it's best to play it safe, and that's why we want to make sure everyone gets to have a good time by implementing a few rules for safety
All party participants must watch the safety video
Participants have to pass off on the Warped Wall before they can move on to other obstacles
No children under the age of 4 are allowed on the obstacle floor
Children under the age of 6 must be accompanied by a parent or guardian
No use of fitness equipment, except for the treadmills
Participants must warm up properly prior to attempting obstacles
Only one participant on an obstacle at a time
Stay within your abilities—a party isn't the time to accidentally hurt yourself!
Proper technique must be used when descending from the Warped Wall and kids area
No lounging on the obstacles—they're meant to be conquered!
No climbing on the truss or padded poles
No tag, chase, or hide and seek in the facility
No gum, food, or drinks on the obstacle floor
Be respectful and safe!
No bullying or negativity permitted
Have fun!
Party dress code
As an additional safety measure, we have a few dress code requirements participants are required to follow. They include:
Clean athletic shoes required, no bare feet
Athletic clothing is needed
Mid-section must be covered by clothing
No dangly accessories that could be caught
No pants with metal buttons